So you've bleached your hair and now need to tone it. No doubt you've heard that Wella is the way to go, but might be wondering: what's the difference between Wella T14 and T18?
Choosing the right toner can make or break the blonde hair color look you're going for. Toners like Wella T14 and Wella T18 are designed to eliminate brassiness and neutralize unwanted warmth so you can get a nice, clean blonde.
But these toners are not the same as they have different base colors. Choosing the wrong one could mean not getting your desired results and possibly needing to tone a second time. Creating delicate shades of blonde like platinum and beige can be achieved using Wella T14 or T18
Plain and simple, Wella T14 is a violet-blue base while T18 is a violet-violet base. You're probably wondering why that matters, which is why in this guide you'll learn the difference between the two and which one is right for you.
In this article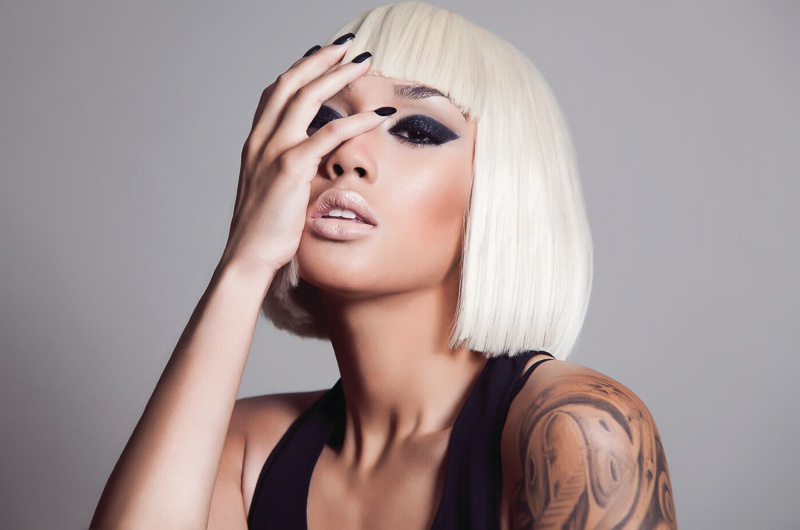 Wella T14 and Wella T18 are Both Ash Toners
Both Wella T14 and T18 are ash toners. Ash refers to cooler tones meaning these will make your hair a pale, cool toned blonde rather than a warm or brassy tone.
Ash toners are best if you want platinum blonde hair or if you are going for a pastel color after lightening.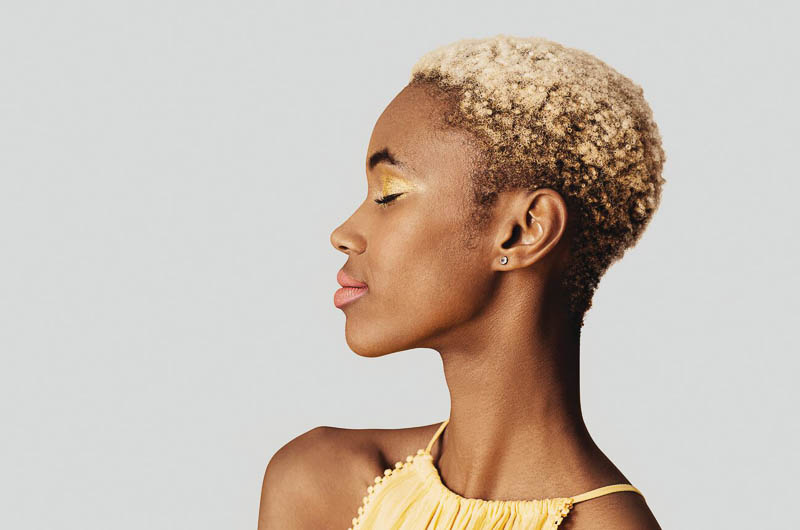 The Colors are Different
Although they might look similar, the colors of Wella T14 and Wella T18 are different.
T14 is a pale ash blonde with violet-blue tones, making it better for hair that still has some orange left in it.
T18, on the other hand, is Lightest Ash Blonde with only a violet base. Violet cancels out yellow while blue cancels out orange. If you have any orange left in your hair, T14 is probably the best for your hair over T18. T18 is only effective if your hair is a level 10 or higher (purely yellow).
Putting the wrong toner in your hair won't necessarily harm it, but it likely won't affect the color at all.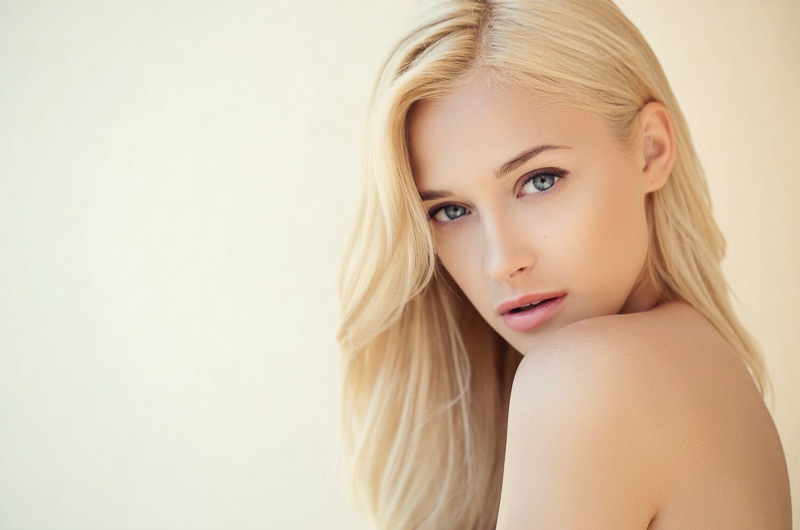 How Does Wella Toner Work?
It's important to note that Wella T14 and Wella T18 are not purely toners like purple shampoo. Instead, they are permanent colors. This is important because they are designed to deposit color, not strip color away.
You will want to apply a Wella toner onto your hair after it has been lifted to the correct level. The level of your hair is how light or dark it is, and toners will only work on hair that is light enough.
The type of Wella toner you want to use--either T14 or T-18--depends on the level of your hair and its undertones.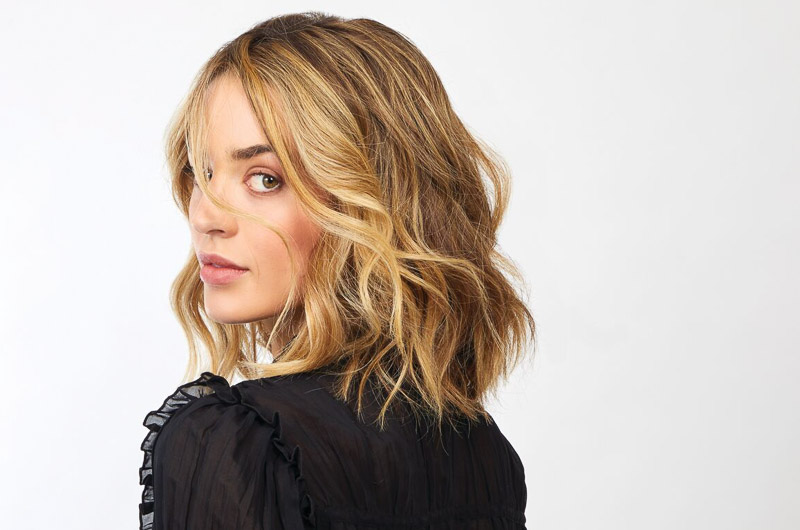 Will Toner Damage My Hair?
Toner is able to damage your hair because you must use a developer. This isn't as damaging as lightening your hair, but it can be damaging, especially on compromised hair. If your hair is compromised--aka, already damaged--a developer can further damage your hair.
This is why a lower developer is recommended for your toner, such as a 20 volume developer as opposed to a 30 or 40 volume developer.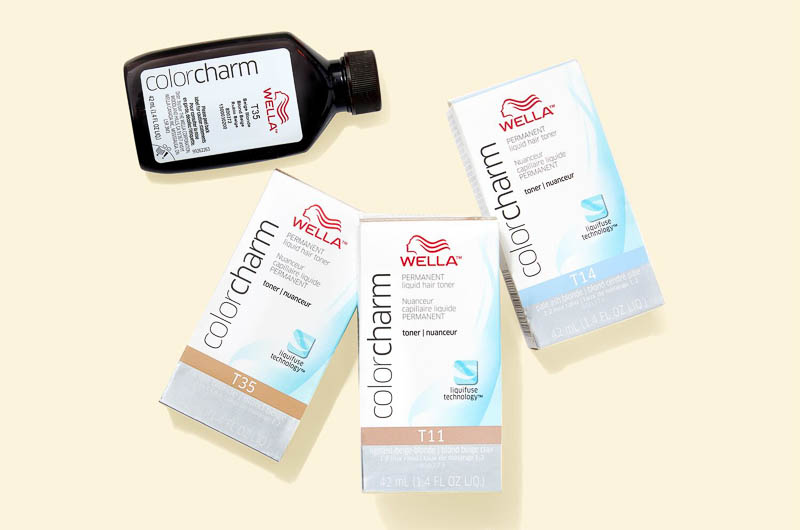 What Wella Toner Should I Use?
The best Wella toner for your hair depends on the level of your hair (how light or dark it is) and the undertones. Consult a color wheel to discover what colors cancel out other colors. Purple cancels out yellow and blue cancels out orange, for example, so if you have orange in your hair, you will want a Wella toner with blue tones.
This applies to the color of hair you are placing the toner on, not your natural hair (unless you are attempting to tone your natural hair). When you pre-lighten your hair to a lighter shade, make sure to get the Wella toner that reflects this new shade.
There are other toners aside from Wella T18 and Wella T14, so take a look at the other toners available for darker hair.
Keep in Mind:
Wella T14 and T18 are permanent liquid toners so they will fade minimally, if at all. If your desired outcome is not reached you will need to tone again.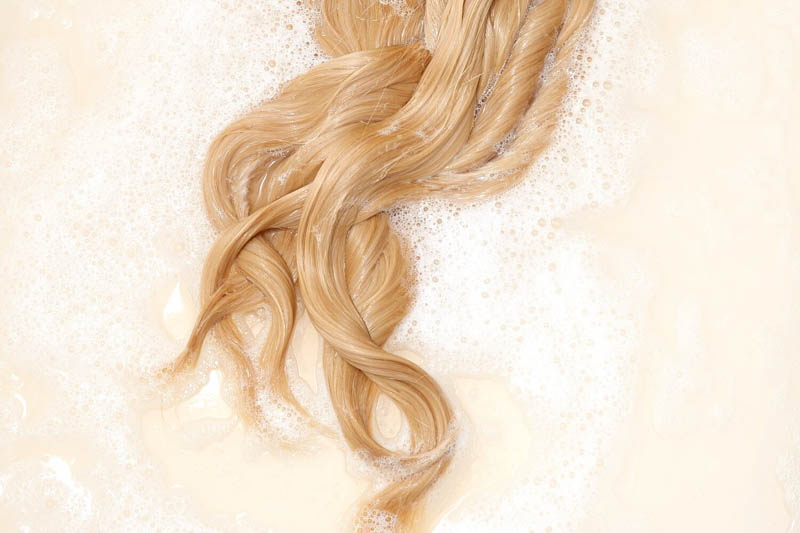 How to Apply Wella Permanent Liquid Toner
Strand and Patch Test

We always recommend a strand test and a patch test first.

A patch test is placing a small amount of toner on the skin to make sure you don't have any overt allergic reaction to the substance.

A strand test is taking a thin piece of your hair (normally at the back and underneath) and applying the Wella toner as you normally would and letting it sit before washing it out. This lets you see the results you can expect before applying the toner all over your hair.

Separate Your Hair in Sections

Small, thin sections are recommended when applying lightener, color or toner to your hair because it allows you to ensure that every strand is properly and evenly saturated.

Mix Toner and Developer

In a non-metallic bowl or color applicator bottle, mix 2 parts 20 volume developer to 1 part toner in a 1:2 ratio. Using an entire bottle of Wella Color Charm Permanent Toner is 1.42 oz so therefore you'll need a digital scale to be exact.

Pro Tip:

You should always follow the included instructions when measuring color to developer. However, in this instance if you happen to get just a little extra developer in the bowl, don't worry. Extra developer does not cause more damage to your hair. It simply dilutes the shade and tone intensity.

Apply Toner Starting at the Back

With any type of application process involving lightener or developer, it is recommended that you start applying with an applicator brush at the back. Unlike with lightener, you can start anywhere on the hair with toner--such as starting at the roots or the midshaft.

Carefully saturate each section until all of your hair is covered. No part of your hair should be dry by the time you are finished applying the toner.

Let Toner Sit for a Few Minutes

The amount of time your toner needs to sit depends on the lift you're seeking. Check the box directions. For light toning, 8-10 minutes is generally recommended while darker toning may require 20-25 minutes. Avoid exceeding 30 minutes total processing time.

When you apply the toner and let it sit, your hair may appear to darken to a purple or blue, but this is what it's supposed to do! If you wash it out too early, the results of the toner may not be the best. Let it sit as long as you believe you need to before washing it out.

Wash Out Toner with Your Favorite Shampoo and Conditioner

Wash your hair with shampoo and conditioner. Make sure the toner is thoroughly rinsed from your hair. We recommend sulfate-free shampoo.
Additional Toning Tips:
Not everything is straightforward when it comes to toning your hair. Here are a few additional tips to keep in mind when toning your hair.
Keep your hair toned with purple shampoo. Using a toner every time you wash your hair can help keep brassiness from your hair.

Take time to lighten and tone your hair properly. It may take more than one day or session to achieve the best results.

Use a low volume developer. When toning, you want to deposit color rather than lift color. We recommend a 20 volume developer when toning your hair.
The main difference between Wella t18 and t14 to take away is that your hair will need to be at a different level in order for the toner to work. Compare the current level of your hair to the desired shade in order to find which Wella toner you need.